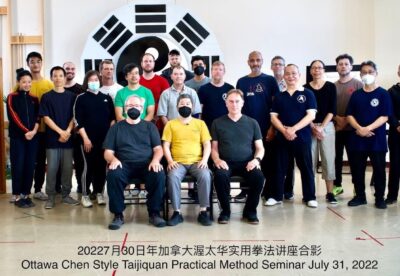 Click this link to see you are qualified for discount.
This video package contains videos from Master Chen Zhonghua's 2022 Ottawa Practical Method private lessons and workshop. More videos will be added till the middle of August.
Note:
This video package may contain videos that are separately published or included in other packages on this website. It is possible that you may have access to some of these videos already. We will not refund for any duplicate videos. Please purchase the packages at your discretion.
This package includes the following 63 videos (total value of $141):
"1-2022 Ottawa Practical Method Workshop" Online Video
"2-2022 Ottawa Practical Method Workshop" Online Video
"3-2022 Ottawa Practical Method Workshop" Online Video
"4-2022 Ottawa Practical Method Workshop" Online Video
"5-2022 Ottawa Practical Method Workshop" Online Video
"6-2022 Ottawa Practical Method Workshop" Online Video
"7-2022 Ottawa Practical Method Workshop" Online Video
"8-2022 Ottawa Practical Method Workshop" Online Video
"9-2022 Ottawa Practical Method Workshop" Online Video
"10-2022 Ottawa Practical Method Workshop" Online Video
"11-2022 Ottawa Practical Method Workshop" Online Video
"12-2022 Ottawa Practical Method Workshop" Online Video
"13-2022 Ottawa Practical Method Workshop" Online Video
"14-2022 Ottawa Practical Method Workshop" Online Video
"15-2022 Ottawa Practical Method Workshop" Online Video
"16-2022 Ottawa Practical Method Workshop" Online Video
"17-2022 Ottawa Practical Method Workshop" Online Video
"18-2022 Ottawa Practical Method Workshop" Online Video
"19-2022 Ottawa Practical Method Workshop" Online Video
"20-2022 Ottawa Practical Method Workshop" Online Video
"21-2022 Ottawa Practical Method Workshop" Online Video
"22-2022 Ottawa Practical Method Workshop" Online Video
"23-2022 Ottawa Practical Method Workshop" Online Video
"24-2022 Ottawa Practical Method Workshop" Online Video
"25-2022 Ottawa Practical Method Workshop" Online Video
"26-2022 Ottawa Practical Method Workshop" Online Video
"27-2022 Ottawa Practical Method Workshop" Online Video
"28-2022 Ottawa Practical Method Workshop" Online Video
"Rick_Pietila-2022 Ottawa Practical Method Workshop" Online Video
"Rebecca_Wong-2022 Ottawa Practical Method Workshop" Online Video
"John_Dahms-2022 Ottawa Practical Method Workshop" Online Video
"Bill_Cullen-2022 Ottawa Practical Method Workshop" Online Video
"Brennan_Toh-2022 Ottawa Practical Method Workshop" Online Video
"Frederick-2022 Ottawa Practical Method Workshop" Online Video
"28_Quick_Sand-2022 Ottawa Practical Method Workshop" Online Video
"40-2022 Ottawa Practical Method Workshop" Online Video
"41-2022 Ottawa Practical Method Workshop" Online Video
"42-2022 Ottawa Practical Method Workshop" Online Video
"43-2022 Ottawa Practical Method Workshop" Online Video
"44-2022 Ottawa Practical Method Workshop" Online Video
"45-2022 Ottawa Practical Method Workshop" Online Video
"46-2022 Ottawa Practical Method Workshop" Online Video
"47-2022 Ottawa Practical Method Workshop" Online Video
"48-2022 Ottawa Practical Method Workshop" Online Video
"49-2022 Ottawa Practical Method Workshop" Online Video
"50-2022 Ottawa Practical Method Workshop" Online Video
"51-2022 Ottawa Practical Method Workshop" Online Video
"52-2022 Ottawa Practical Method Workshop" Online Video
"53-2022 Ottawa Practical Method Workshop" Online Video
"54-2022 Ottawa Practical Method Workshop" Online Video
"29-2022 Ottawa Practical Method Workshop" Online Video
"30-2022 Ottawa Practical Method Workshop" Online Video
"31-2022 Ottawa Practical Method Workshop" Online Video
"32-2022 Ottawa Practical Method Workshop" Online Video
"33-2022 Ottawa Practical Method Workshop" Online Video
"34-2022 Ottawa Practical Method Workshop" Online Video
"35-2022 Ottawa Practical Method Workshop" Online Video
"36-2022 Ottawa Practical Method Workshop" Online Video
"37-2022 Ottawa Practical Method Workshop" Online Video
"38-2022 Ottawa Practical Method Workshop" Online Video
"39-2022 Ottawa Practical Method Workshop" Online Video
"Stance-2022 Ottawa Practical Method Workshop" Online Video
"55-2022 Ottawa Practical Method Workshop" Online Video