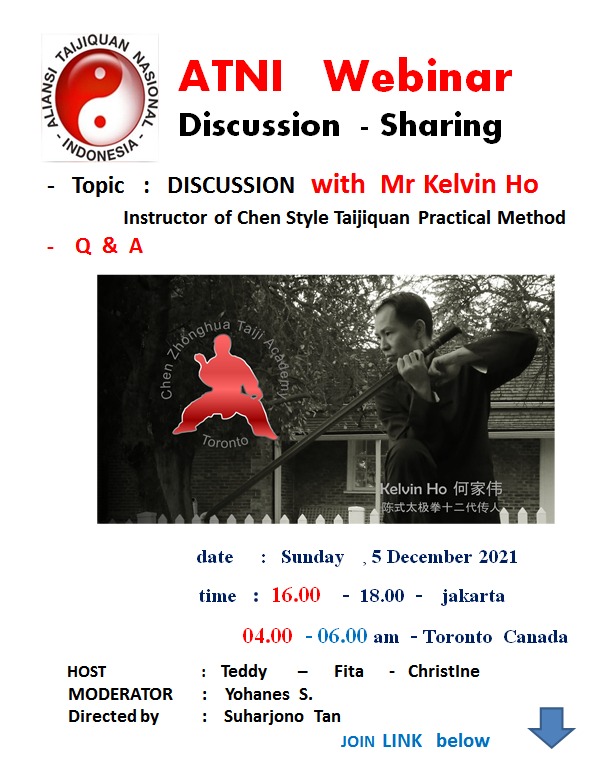 Date: Dec. 5, 2021
Time: 4 pm WIB or 4 am EST
Zoom:
URL: https://us02web.zoom.us/j/82543303297?pwd=N3pSeGxRVGpHWkVNWDh4QkJQblVMUT09
Meeting ID: 825 4330 3297
Passcode: 510320
The interview will be conducted in English and Chinese, and translated to Bahasa. Kelvin Ho will share his Taiji journey learning from Master Chen Zhonghua, and discuss features of Practical Method.
There will also be a Q&A session.
Kelvin Ho is the 12th Generation Chen Style Taijiquan instructor and a disciple of Master Chen Zhonghua, who is the Chen Style Taijiquan Practical Method International Standard Bearer. Chen Style Taijiquan Practical Method is an inheritance and continuation of the original Grandmaster Chen Fake teachings passed through Grandmaster Hong Junsheng. The choreography is kept intact while some of the hidden applications are brought to light in order to make the forms and applications identical, therefore the title Practical Method. Health and body transformation are realized through traditional methods of physical training, such as joint opening, and body stretches. Kelvin Ho has been teaching the Practical Method system since 2011, published taiji articles, released teaching videos online, and received numerous medals in various Taiji competitions. He is currently the vice-president of MartialArts Association Canada, and was honoured by Master Chen Zhonghua as one of prestigious Qingshan Instructors since 2019. In 2020, he became a lecturer at Rizhao Professional Technical College Qingshan Taiji Culture Research Institute, and taught English and Chinese classes on Practical Method yilu, cannon fist, sword and broadsword to people in China and overseas. He has so far completed 36,000 yilus, will continue to study taijiquan, further advance his skills. Like his teacher, he feels obligated to share and pass on this great martial art to others.

Upcoming Practical Method interviews:

Date and Time
Speaker
Dec. 12, 2021
2 am
Edmonton Time

Ling Zili
Master Chen Zhonghua's 103th Disciple
Chen Zhonghua Taiji Academy Sydney Branch Instructor