It wasn't a workshop, but a gathering of friends. Still, there was some excellent instruction alongside the camaraderie, good food and the view of thousands of salmon resting in pools below a raging waterfall. So much excitement, so little sleep, not enough down time to heal the aches and pains from the difficult training.
Some of us tried out a very different kind of push hands with Master Chen. Instead of resisting the opponent's push or pull, what Shifu calls "fighting," you welcome it. When he pushes your arm you don't try to stop him. Instead you expand into the empty space around him. With every push he gives, you fill the empty space he leaves, eventually giving him no room to move. You give him what he wants and fill or "take out" the space he doesn't want.
As an old weak guy, I'm not good at resisting pushes, but I have no problem expanding into empty spaces and sticking to an opponent. I like the idea of luring into emptiness, making the opponent think he can push me over, only to find I'm no longer there and there's nothing to push against.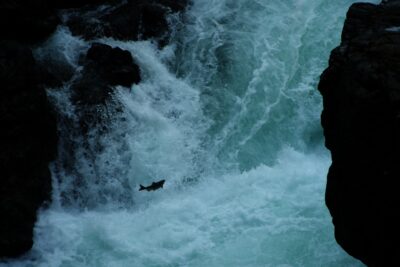 There are four elements involved. First you touch the opponent–just a light touch. The second element is to adhere; that is, you use the movements of your elbow to stick to the point you touched. The third element is to link with the opponent's actions; that is, you follow his movements using your kua to not let him get away. Lastly, you have to use your feet to follow him when he seriously tries to escape.
Shifu also taught a good technique for remembering what he says. When he says something you want to remember you repeat it word for word out loud. It's so simple and sounds foolish, but it works.
Another major thing he tried to get us to do was give up punching. What you do instead is tighten your fist and straighten a line from it to your back foot. You turn yourself into a spear with one end stuck in the ground. When the opponent attacks, he impales himself on your spear. In the same vein, when an opponent pushes, don't push back. Instead, stiffen yourself in line with your back foot and his push will bounce him backwards without any push on your part.